I've been known to be a light traveler for most of my adult life. I actually do not even own a full-sized suitcase–all of my luggage can fit in the overhead bin. In the same way I try to be more mindful of my budget, I'm also more deliberate about my packing choices.
At a bachelorette party in Vegas, I was the only one to be able to carry her bag on to the flight. Even though most of the others brought about a dozen potential outfits to wear that weekend, I was actually relieved not to have to model all my choices for the others. Since my options were limited to the dresses and heels I tried on at home, I didn't have to participate in the "what should I wear" fashion show while we pregamed🥂.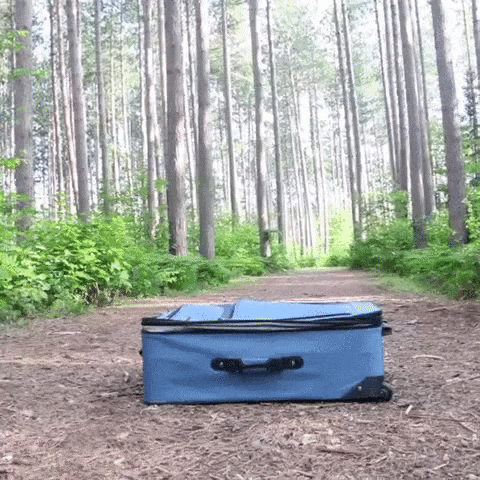 A few years ago I went to Europe for two weeks and only carried a backpack with me. Since I traveled to several cities, a huge rolling suitcase on cobblestone streets would have been a nightmare. Although I packed everything in a backpack for simplicity's sake, some of my friends were really impressed.
Yes I did do laundry in the sink and wore the same outfit in some photos, but it was worth it to not lug around a heavy suitcase–especially since I was a lone traveler for part of my trip. And a frugal bonus was that I didn't have room to buy lots of souvenirs I didn't really need anyway!
As I'm leaving for another two week vacation to Europe in a few days, I wanted to assume the same mentality of simplicity and ease. Last summer I spent a month abroad–and packed for different climates–with just a carry-on and backpack, so I think this trip will actually be easier. (Plus, last summer I left room in my bag for wine because God bless the Australian airlines policy that allows up to 3 liters of wine in your carry-on bag. Seriously. Australian domestic airlines are the best 😍.)
The high temperatures for my two week trip range from 68-104 degrees Fahrenheit, so I focused on packing mostly lightweight clothes that can be layered. This helps cut down on packing bulk.
One big change from my European trip 5 years ago is that I'm not allowing myself to purchase new clothes. My self-imposed clothes buying ban made me realize I simply do not need any. I can get by without buying new dresses and lightweight clothes that used to be a normal (and expensive) part of the packing process years ago.
As a result, all of my clothes are at least a year old — some way more than that. I sadly abandoned a cart of Lululemon travel clothes last week, but I was proud of myself for walking away. And I hope those clothes find a new home soon.
I realize not everyone is able to pack everything in a carry-on, but here are some things about me that make packing easy:
I'm pretty casual — We don't have any super fancy events planned, so adding accessories to my maxi dress should do it for any nicer places. I also keep my hair longer than shoulder length for traveling so I don't need to bring tools to style it — throwing it up in a bun while wet or braiding it is good enough for me. Long hair, don't care.
I have average-sized feet — My fiancé struggles to pack using just a carry-on when he has to fit several pairs of size 13 shoes. I'm a size 9 and not a big shoe person, so I only take a few pairs. Plus my sandals can be dressed up or down, so I don't need to worry about bulky wedges or heels.
I've already experimented with capsule wardrobes — Capsule wardrobes make it so much easier to pick outfits that coordinate. This eliminates the need for lots of different pieces. Packing can also be a good way to try out a capsule wardrobe. I wrote a little about my capsule wardrobe here.
---
How To Pack for a 2 Week Trip
My first step when packing light(er) is to lay everything out. I used the bed in our spare room to visualize how many items I was going to pack.
Here's the breakdown:
Dresses/Skirts: Printed maxi dress, Navy maxi skirt, Black midi dress
Bottoms: Pink shorts, White jeans
Short-Sleeved/Sleeveless Tops: Grey tank, Green tank, Navy T, Blue sleeveless, Black sleeveless
Long Sleeved Tops: White cardigan, Light chambray button-up, Plaid hiking button-up, Blue cowl-neck sweatshirt
Workout clothes: Blue top, Green top, Black capris, Black shorts, Maroon shorts
Other: Bathing suit, Printed scarf
Clothes for the plane: Leggings, Grey T, Dark chambray button-up, Blanket scarf
Not pictured: Underwear, bras, socks, and some necklaces/earrings for accessorizing
---
When putting together my packing list, I try to be mindful of including multifunctional pieces. For example, the lightweight black dress doubles as a swim cover-up and the workout tops can be worn for everyday sightseeing or sleeping. Also, I made sure that all short-sleeved/sleeveless tops will match both the shorts and jeans to make mixing up outfits a breeze. (Capsule wardrobe principles for the win!)
I take the same approach with shoes. I'm planning on only bringing four pairs:
I absolutely love my sandals! They are comfortable and perfect for dressing up or wearing casually with shorts and a tank. I'm hoping to go running in order to explore cities and drop into a CrossFit gym, so I packed a pair of athletic shoes. The casual shoes are for the plane and the flip flops for the pools. If you can't tell by now, I value comfort over style any day…
Here's what it looks like all packed up (the shoes are in the pockets on the side and in front):
I highly recommend the Marie Kondo method of folding. By making the "spines" of the clothes visual (like a bookshelf), it's easier to pick something to wear. I also do this with all the clothes in my dresser. (Note: I adapt her methods sightly, but the fundamentals are still the same.)
My "personal item" is a Timbuk2 bag I bought for my trip to Europe in 2014. It's lightweight, functional, and has plenty of space for my toiletries and everything I need to access on the plane – plus it's a great bag for a day of sightseeing. It has enough room for sunglasses, an umbrella ,and lightweight sweater when I'm away from the room all day. (I also packed a brown purse in my suitcase for another option when we go out.)
Unfortunately, Timbuk2 does not make my bag anymore. If I were to upgrade bags, I'd probably choose this one. It's seems so versatile!
Notes: Although I could fit more clothing in my suitcase (it's pretty loosely packed), I do have some room if I choose to buy anything. I'm not a big shopper, so enough room for a new scarf or sweater should be enough.
I think I could actually eliminate a few of the tops and still be ok for two weeks. Since I have no problem washing clothes in the sink, I could easily make it three weeks or more.
---
Other Traveling Tips
Traveling is one of my favorite things to do. As cliché as it sounds, I absolutely love trying new things, meeting new people, experiencing new cultures. Although I'm not a novice, I'm definitely not an expert nomad. However, I find joy in traveling and streamlining the packing process makes traveling that much easier.
As someone who's sort of an "intermediate" traveler, I'll leave you with some of the things that have made traveling easier for me:
Exchange money before — It's so much easier to hit the ground running without dealing with ATMs and foreign transaction fees. Although carrying cash can make me nervous if I'm robbed, getting some money ahead of time helps alleviate the anxiety of exchanging money right away.
Bring soap — I love the functionality of Dr. Bronner's and similar multi-use soaps. Since I end up doing laundry in the sink, I can get several wears from an item. After I go for a run, I'll usually just get in the shower in my running clothes to wash them. Make sure you allow enough time for the clothes to dry though: No one wants to pack wet clothes…
Pack a reusable water bottle — Try for something lightweight. If nothing else, fill it up in the airports to save some money. Many cities have unsafe drinking water, but the bigger plastic bottles can be cheaper than buying several small ones each day. I usually buy the bigger bottles and pour some into mine before leaving the room and refill accordingly.
Rick Steves' downloadable tours are amazing for European vacations — The app includes walking tours for major European cities. The tours usually last about an hour and include historical stories and cultural perspectives you can listen to at your leisure. (The Prague one includes a stop for ice cream too!🍦)
---
What are your favorite tips or tricks for packing light?