Reflecting on the Impact of One Purchase – Yes, this is a post about buying one thing 🙃
The first time I went to Europe I felt compelled to buy souvenirs from each country we visited on my high school trip. A small painting of the Eiffel Tower in Paris. A decorative spoon from Lucerne. A stuffed cow wearing lederhosen in Innsbruck. A stein in Munich. And this is not an exhaustive list.
My parents converted my childhood bedroom into a nursery for my newborn niece a few years ago and left me holding a box of this crap. (Yes, it was crap.) My mom asked me to take a few boxes of stuff from high school and I was now had to figure out what to do with cheap souvenirs I hadn't as much as looked at in years.
When I received the boxes of my stuff, I was in the middle of my embrace of Marie Kondo's tidying methods and my slow movement toward minimalism. Although looking at the mementos elicited some fun memories of my first time outside the US, the thought of displaying these cheap trinkets or keeping them in a box in my closet did not spark joy. I ended up discarding the things 16-year-old me wanted so badly. (For the Marie Kondo fanatics: Don't worry, I thanked each item on behalf of the teenager so excited to travel for the first time.)
After departing with my cheap souvenirs, I now mostly steer clear of tacky gift shops to fill a desire to remember my experiences. With the exception of some magnets (I do enjoy seeing my vacation pictures held up by colorful magnets on my fridge), I've avoided buying meaningless souvenirs for myself or others. By intentionally leaving little room in my suitcase for purchased goods, I use the lack of space as a way to discourage thoughtless consumption of more crap.
---
Fast forward to this week. As I unpack my suitcase from my two week vacation, I did come home with a heavier suitcase than when I left. This suitcase included a bottle of wine from Portugal (It survived the flight!), a camel figurine and a small bottle we filled with sand from the Sahara (gifts from our guides on the camel ride), and two things I can wear: a pair of pants and a purse.
I'm looking at the pants right now and I'm smiling. After some deliberation, I bought these pants from a shop in Morocco on our way to the desert dunes of Merzouga and I am happy with my decision. Although one pair of pants is a small purchase for most middle class consumers, as odd as it sounds, it was a big deal for me for two reasons.
#1: I'm actually ok with breaking my clothes buying ban
I haven't bought new pants in about two years and–with some exceptions and a purchase I regretted–new clothes for about 15 months. After a March 2018 shopping binge (in a move to create a capsule wardrobe), I decided to take a hiatus from buying clothes. (I'm still working on a full recap of my clothes buying ban experience.)
When I saw the pants section at a shop in Morocco, I was drawn to the design and possibilities. Flowy with pockets. Like a pair of pajama pants that could be socially acceptable in public. I place a high value on comfortable clothes, but I didn't have time to employ my strategy that helped during the past 15 months. I was got into a habit of putting clothes I thought I needed on a note in my phone and reflecting on the list the next week to determine if it was really necessary (this method helped me avoid over a dozen impulse purchases). Since we were just passing through this small village, I did not have the luxury of deliberating for a week and returning.
After thumbing through the patterns, I found one that wasn't too busy, loud, or widely worn by tourists throughout Morocco. A black and white pair would match most of the shirts I already packed for vacation (and could match my things at home too!). I tried them on and hesitated — after recommitting myself to my clothes buying ban after a slip-up in December, were they worth it?
The answer, I realize now, is yes. Despite the seemingly impulsive nature of the purchase, the pants were something I thought about before. I almost bought a similar pair in India last summer and regretted leaving without one. I admired the style on other women in Marrakesh earlier on the trip. And they had pockets and seemed so comfy!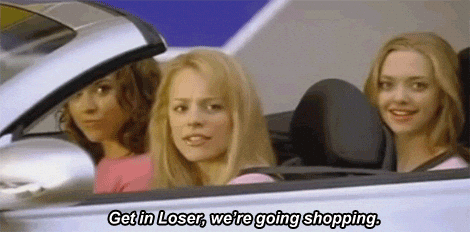 I do not regret buying my pants and they allowed me to consider adding more conscious consumption of clothes back into my life. I know I have to keep myself in check (and avoid online shopping when my motivation is low) to prevent shopping binges that do not add value, but I'm ready to buy things when I need them. When we returned to Marrakesh I bought a purse I admired in a store a few days earlier. I found myself thinking about that purse and how much I'd love it to replace my one at home that was falling apart.
I am grateful for the perspective I gained in completing the clothes buying ban, but now I think I've honed my skills in determining what I really want and need.
#2: I realize my joint financial situation works well
When I moved in with my fiancé, we decided to open a joint credit card for things like groceries and meals out together–and earn airline miles in the process. We eventually went on to open a checking and savings account together, but we still maintain separate accounts. We do not have access to each other's separate accounts and I've really enjoyed this system. I use my own money when I go out solo with friends or pay for my expensive gym membership while he uses his own money for spending on his nights out and hobbies.
I've grown accustomed to purchasing my own things with my own money, but traveling together proved to be different from a financial standpoint. Before we left the States, we exchanged money from our joint checking account and went to some ATMs abroad. As a result, the money was all pooled together to represent our funds together. No separate accounts for the two weeks.
Honestly, I struggled with this system. I felt some guilt that almost deterred me from even looking at the pants in the first place. Why should I spend our money on something only I will use? However, my fiancé saw me eyeing the stacks of pants (probably with a look of longing), and said, "I think you'd look really great in those!" He encouraged me to try some on, and scoffed at my comment that they were probably too expensive.
Since this purchase turned out to be a joyful one that almost did not happen, the ordeal reaffirms my desire to keep a separate pot of money for myself. I'm realizing how much I can overthink and be emotional about my spending (yes, I do recognize how neurotic I can be and I'm working on it), so having a separate financial space to process my money decisions is important to me. I know some financial advisors and regular folks like me recommend combining all money when you're in a serious partnership, but the system we have works for us.
---
So, yeah, a pair of pants caused some epiphanies for me. It's pretty weird, but I enjoy how thinking, talking, and writing about even small financial transactions and decisions can open doors to analyzing pieces of my life.
Have you made any purchases while traveling that you regret or cherish?