Personal Finance bloggers are known to buck trends representative of middle-class lifestyles and signs of status. They downsize their homes even as their income grows, sell their cars and bike to work instead, refuse to buy consumer goods for a whole year, and countless other examples that defy mainstream narratives of "success." The expectation to have an elaborate wedding is no exception for many PF bloggers, especially as the average US wedding cost hovered around $33,000 for 2018.
The PF world is full of stories of how people celebrated their marriages in unique ways, often spending only a few grand (The Fioneers wrote about their meaningful frugal wedding decisions here). There are also stories of those who forgo marriage altogether (A Purple Life articulated her reasons beautifully here). I'm all about people questioning and challenging norms that don't fit their values and goals, but I'll admit we're having an average US wedding when it comes to our budget.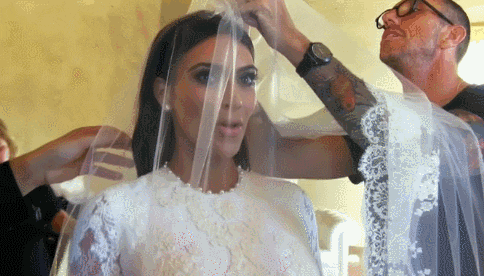 Our wedding will not be frugal in the traditional sense, but more like Grant Sabatier's wonderful definition: "Frugality is not about not spending, it's about not wasting—your money, your time, and your resources. It's about buying and using only what you need." In that spirit, my fiancé and I are consciously weighing marginal costs and benefits when it comes to the "knot tying" decisions. Both of us are beyond excited to throw a huge party to celebrate our marriage, but we are staying mindful of not dropping cash or spending time and energy on the things that don't matter to us.
Here's an important part of the budget puzzle I don't want to downplay: both of our families expressed their desire to contribute to our wedding. I realize how incredibly lucky we are, not only for the blessings of each family, but also for some financial support. I know not everyone has the privilege of help for their wedding, so we are very grateful.
---
So, why do we want to have a "average" wedding? And what are the benefits?
I have so much respect for couples who decide to have a private or small ceremony to celebrate their marriage when that's the right choice for them. However, I'm no fan of engaging in an arms race of extreme cost cutting. My friends have lamented their decisions to overpay for aspects of their weddings, but also have expressed bitterness about choosing the cheapest photographer or allowing someone with little or no experience to play a pivotal role in the event. Weddings are very personal and best remembered when there are no regrets–about the food, officiant, DJ, or, ahem, person standing next to them at the altar.
If we chose the path of having a frugal wedding just for the sake of being frugal, I know we will have regrets. Unfortunately we do not have the "hook up" when it comes to wedding stuff at a deep discount, so we're willing to pay for the things that matter. For over a year now we have discussed our ideal wedding and both of our visions revolve around a large gathering of family and friends in a stunning location. We are making decisions together that honor the things we most want to celebrate our relationship.
Our venue was a top priority and we fell in love with the city's art museum — it is perfect. Since most of our guests will be from out of town (including my fiancé's international family), we wanted to show them the best of the place where we met and intend to raise a family. Plus, the art museum is also close to our house and we get excited when we pass it (we literally point it out and smile every time we drive by).
The venue was not the most expensive space we toured, but it is not cheap. When we created a pro/con list of the 15 or so places we visited, many of the more "economical" locations had more rules and regulations and needed extensive decorations. And one thing I know about my DIY decoration projects is that they always take more time and are more expensive than I anticipate. It's worth getting married in an already gorgeous space so I do not have to deal with DIY stress next spring.
Luckily the museum included a wedding coordinator as part of the package and she has been so accommodating when it comes to our vision and budget. To mitigate the costs, she suggested we end the reception one hour earlier to save on staff and open bar fees. Plus, all guests can view the exhibits during the cocktail hour and reception, so there is no need to pay money for outside entertainment. And with the downtown location it is easier and more cost-effective to arrange for transportation to the venue and to a close bar for an after-party!
This may sound counterintuitive, but there was also a positive side-effect of deciding to have a more extravagant wedding: a sizable savings account. My "Rule #1" for this wedding is NO DEBT. No credit card bills. No loans of any kind. We must be able to afford what we want, or it's not happening. Aftering deciding to extend our engagement to ensure that we would not be stressed to meet this requirement, we started a joint savings account immediately.
This "no debt" rule lit a fire under us and, at 9 months out, we currently have enough to already cover our part of the expenses. Woo Hoo 🤩! Without the impetus to save, I don't think we'd even be in five figures yet. The silver living is that our wedding account showed us that it is possible for us to save more aggressively (and continue the savings after the wedding!).
---
Our Wedding Priorities and Cost Savings

We decided to focus on the venue, catering, photographer, and open bar as the top of our list of priorities. These costs account for over ⅔ of our wedding budget, but they are most important to us. We adore our venue and photographer (having lots of beautiful photos is a non-negotiable for me) and are currently working on the catering situation.
Since we put those four aspects on the front burner, here's how we are saving a little money:
Savings 1: I didn't want an engagement ring
I wrote about this decision, but the gist of it is that I don't really wear a lot of jewelry and I'm not a fan of the societal expectations around rings and proposals. I know some couples who financed their engagement ring, so luckily we are not starting in the hole as far as our wedding spending and budget goes.
Savings 2: I don't care about an expensive dress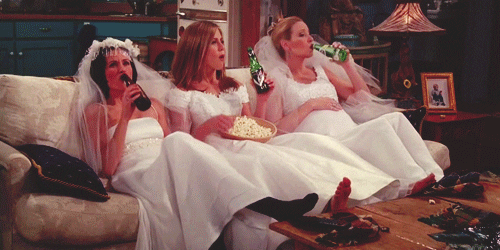 Of course I want to look good on our wedding day, but I set a strict budget of $500 for my dress (the average dress costs around $1,200). Despite a store saleswoman urging me to double this amount, I stuck to my guns and found an absolutely gorgeous dress for $300 on eBay. Even with any alterations, I'll still be under budget.
After trying on my friend's wedding dress and some dresses in store, I narrowed my search down to the styles and designers I like. I spent about two weeks scouring eBay, Poshmark, Tradesy, and Still White and eventually found a beautiful option. I tried it on this week and my mom and sister gave me the thumbs up!
Savings 3: Grocery store flowers and cake
Most of my married friends tell me they were surprised at the cost of flowers. I've talked to Trader Joe's about ordering bouquets from them (I love their flowers!) and they can accommodate a large order with a week's notice. Simply wrapping a ribbon around the base of each flower bunch is a DIY project I can handle. With Trader Joe's bouquets for the ladies and a few centerpieces and ordering boutonnieres from a florist, our floral costs should easily be under $500.
We will be ordering cupcakes from Giant Eagle for our wedding because they are delicious and less than $1 each. I already order them for parties and everyone raves about the taste. Plus I feel like there's this weird thing where brides and grooms always say their cake is "the best ever," but I find most wedding cakes mediocre. I'll stick with what I know can be mass-produced well.
Savings 4: We will be "travel hacking" our honeymoon
We haven't decided on a destination yet, but we're already in the process of accumulating points for flights and hotel stays to keep the cost of an amazing honeymoon low. This will be a work in progress for a few months.
---
Weddings are and should be a reflection of a couple's values and vision. We are thrilled to get married in a few months and we are looking forward to using the same teamwork as we continue to build our life together.
---
What were your wedding "frugal wins" and splurges?